Make Your Own Natural Pine Cone Ornament
This page contains affiliate links. Purchasing from these helps to support our site, giving us a small commission without increasing the rate you pay. Thank you for your support of A Chick And Her Garden.
Last Christmas, in my Pre-School classroom I made a simpler version of this Pine Cone Ornament with the kids and it was a huge hit! The parents loved them, and they veered away from the paper and glue ornaments that deteriorate over the years, while still just as hands on for the little ones.
This year I decided to amp them up a bit and use them in our own home! I love the charm of using nature to decorate. What could be more perfect?
---
Materials
Pine cones
glue or Modge Podge
glitter
Christmas wreath decor
hot glue gun (this one was given to me for Christmas and I LOVE it!)
twine, hemp or ribbon
small paint brush
small dish (to catch extra glitter)
Directions
Dry your pine cones with steps found on this post, Drying Pine Cones For Natural Crafts.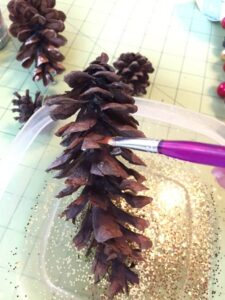 Paint glue onto the pine cones and sprinkle with glitter. I like to add more glue at the top and give it an hombre look with the glitter. (Make sure you place a dish under the pine cone to catch the extra.)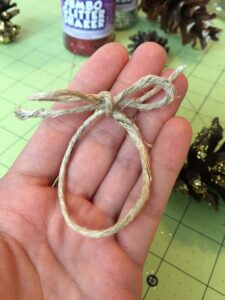 Create a loop to hang your ornament with your twine, hemp or ribbon and attach to the top of the pine cone with hot glue.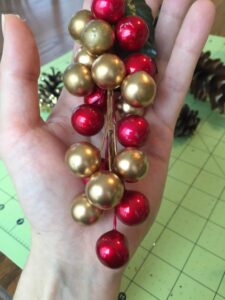 Attach any extra details to the top with either hot glue, or like these berries that I found, use the wire attached and wrap it around the loop discretely.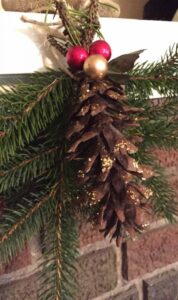 Hang your ornaments from the Christmas Tree or gather some boughs from a pine tree and hang them together on the mantle like I did here!
Do you craft with natural resources? What have you made?
Pin Me For Later!!
Shared on: