Here in the Samuels' household, you would think that I withhold food to get things done around here. This past week has been a meal prep and preserving week and would appear that I got next to nothing accomplished! I've made Golabki (polish stuffed cabbage), sauce for canning, froze corn, roasted chickens, made stock from said chickens, and stocked my freezer with homemade bread and hamburger buns!
As for the bread and buns, I just did this last week! Two loaves and eight hamburger buns, and there are two of us! Yes we pack lunches everyday and it is summer so we are making burgers, but out of 7 days I think we were home 4! And when something is gone that someone wants ( no names of course) I get the inevitable, "we don't have anything to eat."

So! My new goal is bread baking every Sunday! Double Time!
For awhile I was searching for a hamburger bun recipe but finally realized that I was being counter productive. I don't need to go through two different recipes in one day to get my bread needs accomplished. I make two batches of Julia Childs White Bread, which I found on Food.com, and have tweaked a bit to make simpler for myself. One batch I use to make two loaves of bread and with the other I make 16 hamburger buns. My future goal is to also make sausage rolls, but I haven't gotten there yet.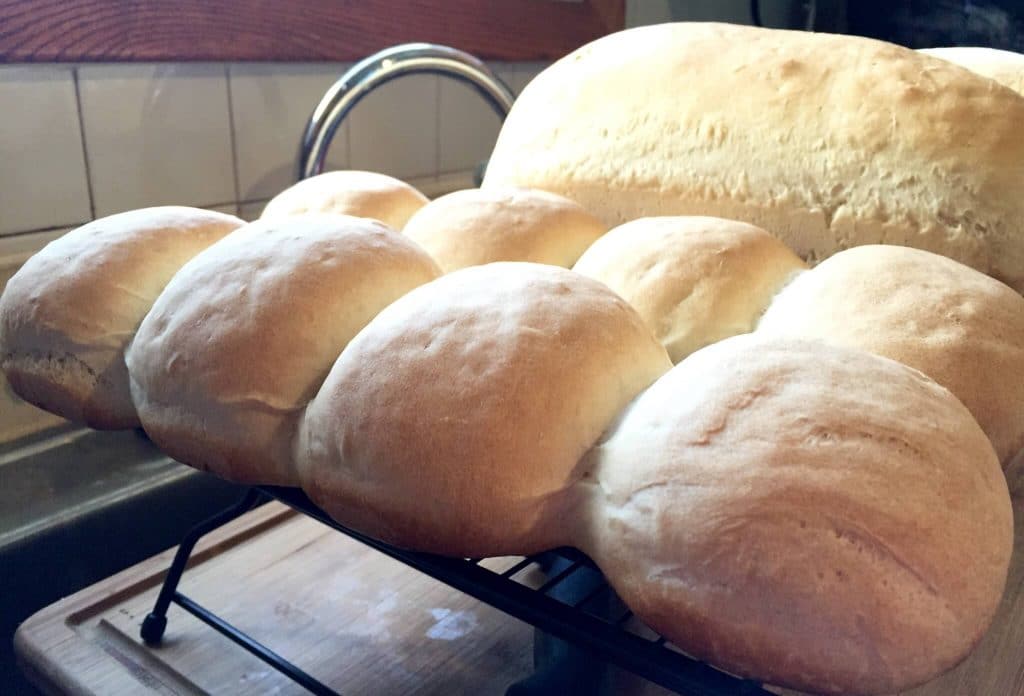 Here is my process for fresh bread and rolls with Julia Childs White Bread Recipe. (Remember to get the two loaves of bread and 16 buns, I make this dough twice.)
Homemade hamburger buns
---
Ingredients
2 1⁄2cups water (105-115 F)
1tablespoon active dry yeast
1tablespoon sugar
7cups bread flour or 7 cups all-purpose flour
1tablespoon salt
1⁄4–1⁄2cup unsalted butter, softened
Directions
Pour 1/2 cup of the water into a bowl (I just add it right into my stand mixer bowl) and mix with yeast and sugarun til foamy.
Let sit for 5 minutes until foamy.
Put the rest of the water and 3 1/2 cups of the flour into the mixer with the dough hook.
Mix slowly until blended then add the rest of the flour.
Increase speed and scrape down the sides until the dough comes together.
(If it doesn't add a tbsp of flour at a time until it does.) Add salt and mix at medium speed for 10 minutes,or do half in mixer and half kneading (I LOVE hand kneading dough!) til dough is smooth and elastic.
Back in mixer add butter 1 tbsp at a time (dough may come apart, but mixing will pull it back together).
Turn dough out on lightly floured surface and shape it into a ball then place in a large buttered or oiled bowl.
Turn dough so it is completely coated in the fat, then cover in plastic for 45 minutes to an hour, until it has doubled in size at room temperature.
For The Bread
Butter 2 loaf pans.
Punch down the dough, cut in half and turn out onto a lightly floured surface.
Roll out into a 9 x 12-inch rectangle.
With the short end facing you, fold the dough into thirds like a sheet of paper to go into an envelope, creating a roll.
Pinch the seam closed, and pinch the ends enough so it will fit in the loaf pan.
Drop in the loaf pan seam side down, and repeat.
Cover the loaves with buttered plastic wrap and allow to rise again in a warm place (80°F) for 45 minutes, until they double in size.
Preheat the oven to 375°F and put the rack in the center of the oven.
Bake for 30-45 minutes until they are honey brown.
Immediately turn out of pans onto a rack to cool.
Once almost completely cool, they can be cut.
For the Hamburger Buns
Cut the dough ball into quarters and continue this until you have 16 pieces of dough.
Hand knead each piece a few times and then roll into a ball.
Place them on a jellyroll pan (you'll need 2) about an inch apart.
Bake at 375 °F for 25-30 minutes or until they are honey brown.
Remove and cool on a wire rack.
After all of this kneading, rising, baking and cooling I slice the bread, separate the rolls and put them in freezer bags and freeze. As I've said before, everytime I turn around it's gone, so I am not able to tell you how long these will keep in the freezer because I don't really know why I bother freezing at all! I'm taking that as a win though because I absolutely love when my food makes my family happy!
[amd-zlrecipe-recipe:6]
This post has been shared on the Modern Homesteading Blog Hop