How To Build A Brooder House And Why You Need One
We love broodies around here! I know, there are tons of posts out there on how to stop broodiness, but if you raise dual purpose chickens and keep a rooster, or better yet heritage breed chickens, those broody hens are something that you rely on!
And if you have broodies you need to know how to build a brooder house!
Bringing in a new batch (or 2, or 4, or…) of chicks every year brings us meat, and replaces the hens that have stopped laying.
This page may contain affiliate links. I may earn a small commission when you make a purchase, but it does not effect your cost. Thank you so much for your support of A Chick And Her Garden! ~ Staci
You could always order more chicks and raise them in a brooder. But that costs time and money.
We would much rather let the hens do their thing. You can read more on why in Momma Knows Best ~ Letting A Broody Hen Brood.
Usually I have at least one broody hen by March, with more that quickly follow. Broodiness is contagious! But this Winter was a roller coaster of temperatures and threw our girls off completely.
Share the love! Pin me for later!!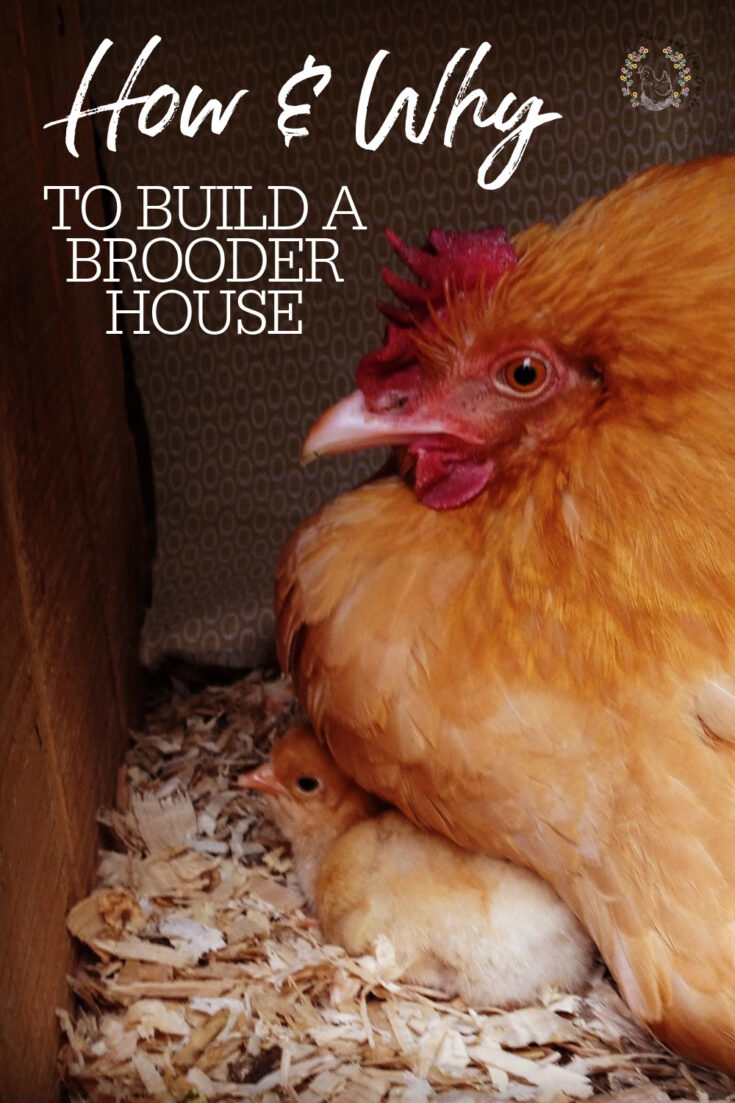 After a lot of worrying, I finally got my first broody the second week of April. The second happened a week later!
The past few years we've dealt with these traffic jams a few times by adding dog crates into the coop, but ran into a few problems.
While keeping the hen and her chicks in the coop does have the benefit of acclimating the flock to the chicks sooner, you run the risk of them being trampled or stuck in a corner out of reach.
We also had the problem of chicks having a hard time getting back into the coop and being left behind at night. So I enlisted Hubs to build me a brooder house, or as we like to call it, "the Chicken Maternity Ward."
So, you wanna know how to build a brooder house? Check out how we did it!
---
Building the Chicken Maternity Ward!
As I mentioned before, broodiness is contagious. So a brooder house for one hen wouldn't be enough.
We made ours for two. Cross your fingers that this isn't the year we need it for three!
When I had my grand plans in my head, my thoughts were that we would build it from scratch. Good old hubby though, he remembered the wooden box on legs, that we had in the basement.
Who knows why we had a wooden box on legs in the basement?? It was among the strange things left here by the previous owners. But, yay for us!
We used it for our first chicks, until they grew out of it. He decided that he would use that as the basic structure and go from there!
Related Posts:
Good thinkin' babe! We went from spending who knows what, to spending $14 on hardware!!! Score!
If you're looking for more ways to reduce chicken costs, click here!
He started by cutting out two doors from the existing side and attaching hinges on the bottom to make ramps for each nest. He also framed up the top to give it a bit more height and attach a roof, at an angle, that also has hinges to open from the top.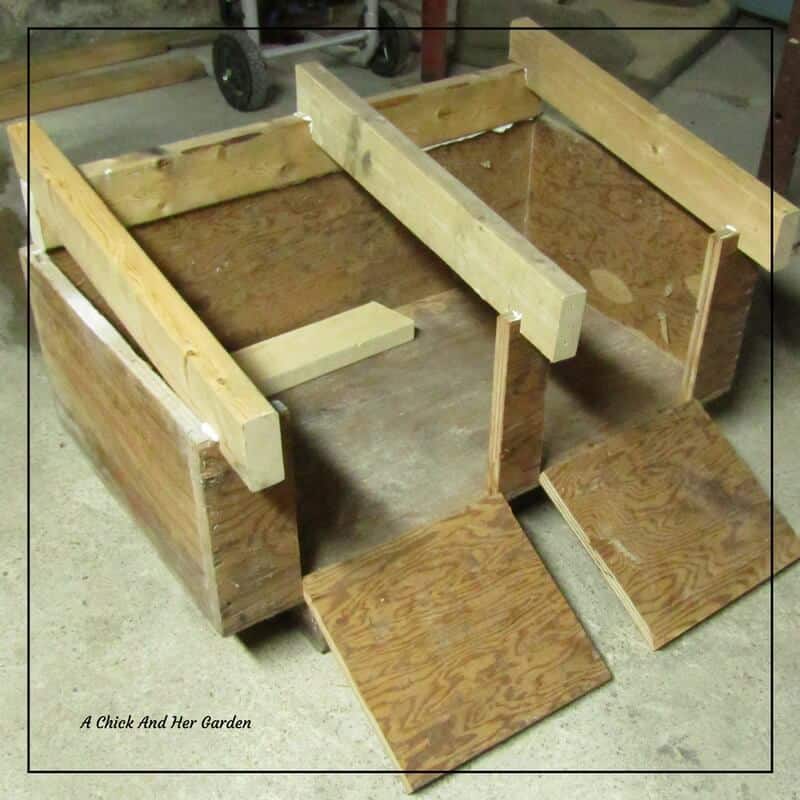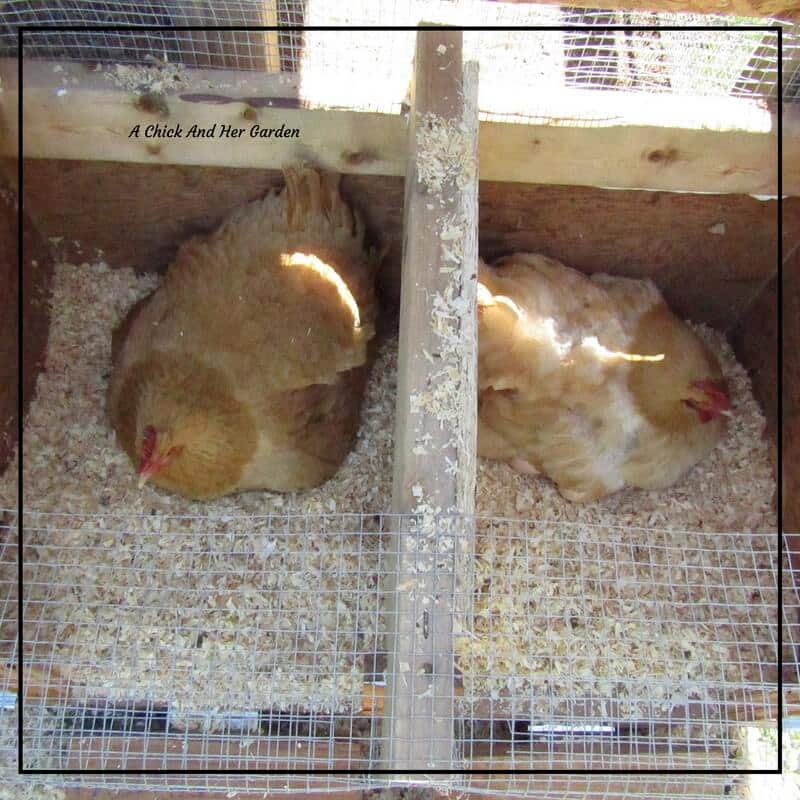 We had leftover shingles from the original coop in the shed that we were able to add to the roof. Then we added locks to the doors.
When the roof was added he left space for ventilation, and covered it with extra hardware cloth to keep out predators.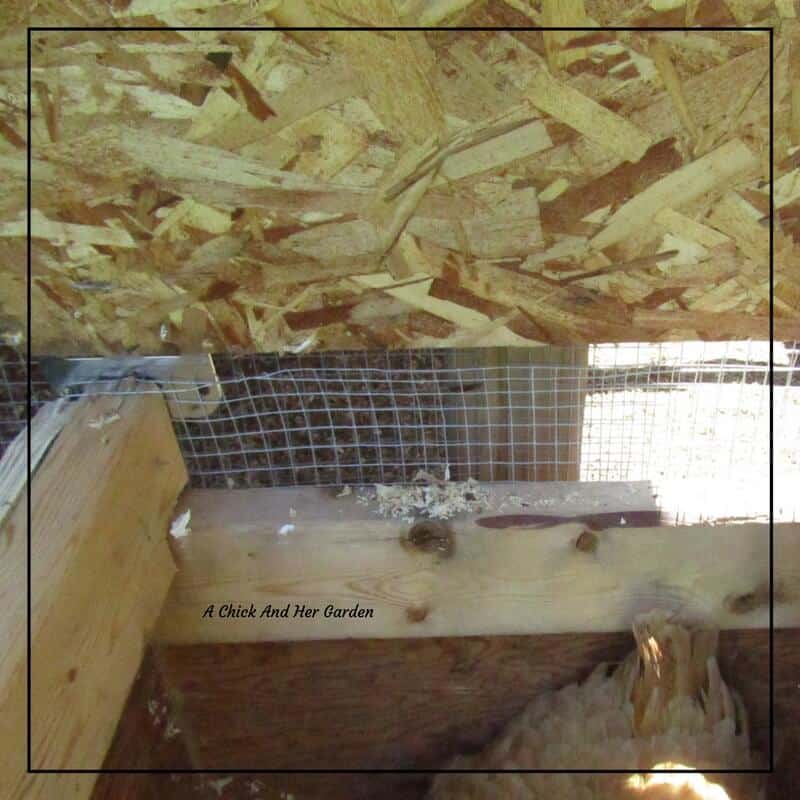 All it needs now is a paint job, which I'll do when the hens are done using it!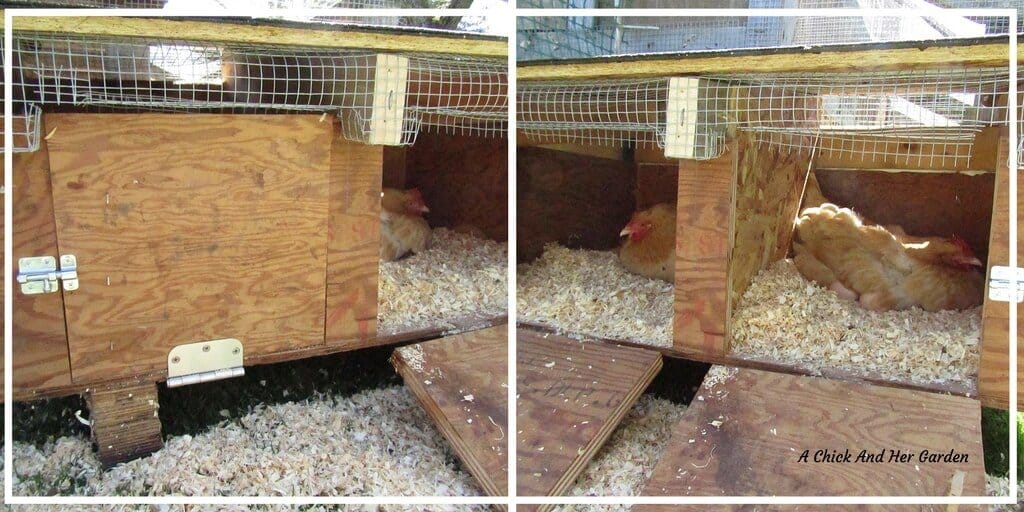 I've noticed that between 2-3 weeks the chicks are able to get in and out of the coop on their own and don't have to worry as much about them being left behind.
After I added bedding and the hens with their eggs, I made the mistake of thinking we were good to go. Not so much when you have a flock of other curious creatures!
Those poor girls put up with everyone else busting in and disturbing their peace. I also found a few eggs that got knocked out of the nests.
So, they needed their own fenced in area. Again, another freebie! I had some old fencing from the garden last year and a ton of re-bar that Nick brought home from work!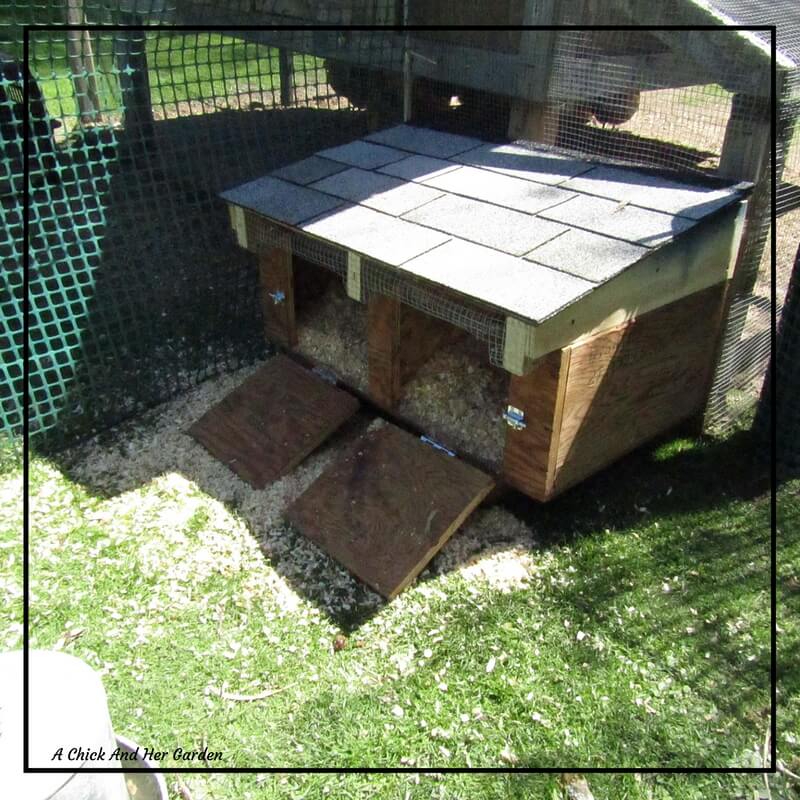 Viola! The Chicken Maternity Ward is complete! What do you think? You now know how to build a brooder house!
Has your flock caught the broody bug? Tell me about it in the comments! Or even better, show me some pictures! I love broodies and babes!
This post was shared on some of my favorite blog hops!