Are you a fan of fresh pasta, but think it's too hard to make your own? Don't worry! It's not as hard as you'd think! This peppered linguine is the perfect pasta to start out with!
I've always been the type of person that thinks if I can make it myself I'm not going to buy it. And, that's no different with fresh pasta. But, I was also nervous to try it myself.
It seems easy enough. Just a few ingredients, a rolling pin and a knife.
A lot of posts that I've read have said it's so easy and you don't need a fancy pasta maker to do it. Which is kind of true. Except, pasta dough is kind of tough (or maybe I'm a wimp), and unless your buying the attachment for a stand mixer a counter top pasta maker isn't really fancy.
Share the love! Pin me for others!
I gave making linguine without a pasta maker a try, and like I said, I must be a wimp!
The whole time I kept thinking to myself that I must have done something wrong! And then, when I thought I'd rolled it thin enough and cooked it, it puffed up so much that I knew I hadn't!
I decided to give myself a break and try again another time. Maybe, I had just made the dough too dry.
A few days later I decided to treat myself to some retail therapy (something I honestly do about once or twice a year) and decided to stop into Home Goods!
If you're not a food blogger, let me explain that this is pretty much like Disney World! My husband won't go in there with me because we could be there for hours, and that's just in the kitchen section!
Double bonus was that they were having an after Christmas clearance sale!! While digging through the cute plates, salad dishes, napkins, place mats and more I actually stumbled on their last pasta maker!
It was like fate, and not to mention the purchase was one of the best decisions I've made!
I was so excited to give it a try, and decided to start out with a half batch. That one was a little difficult but by the end I'd figured it out and it was a piece of cake!
Related Posts:
The idea for peppered linguine came from a restaurant a few miles from our house. For all of their pasta dishes you have the option of switching to peppered linguine and I love it! But, I'm never able to find it in the stores so I decided to make that for my first batch of homemade pasta.
Besides using my fantastic pasta maker, the best part is that it only takes four ingredients and I bet you already have them! Are you ready to make linguine yet?
Ingredients
2 cups flour
3 eggs
1 tsp salt
1 tsp fresh cracked black pepper
Instructions
To start, place your flour in a medium mixing bowl and create a well in the middle. (I like to start with a little less than the full 2 cups and add more as you need it.)
Crack your eggs into the well and add the salt and pepper.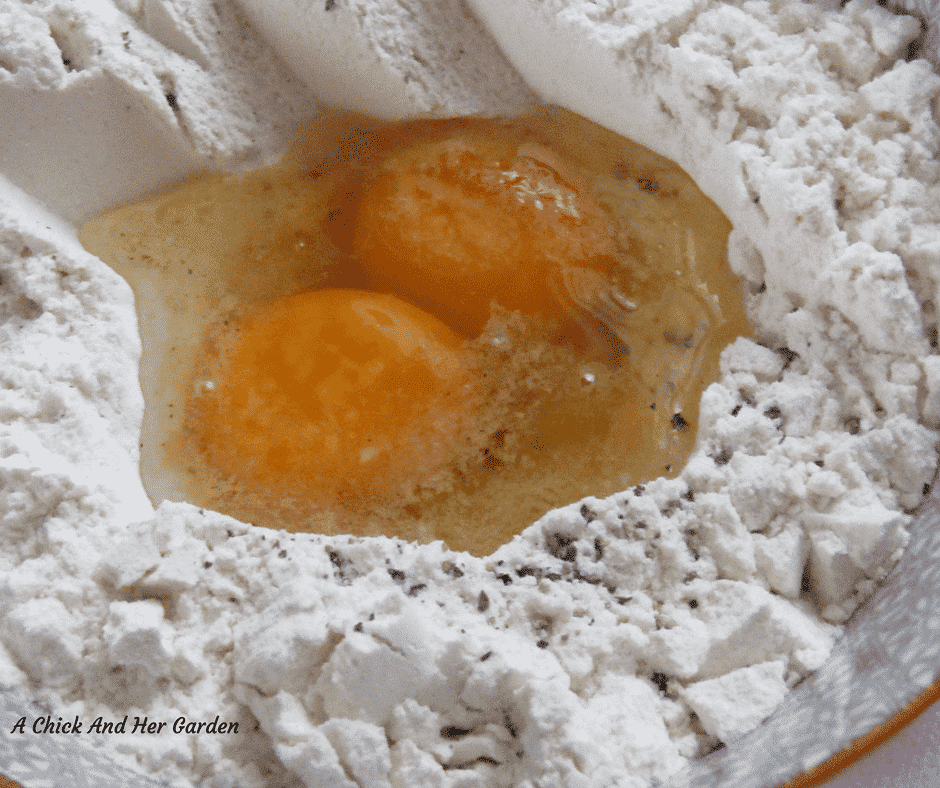 Whisk the eggs, pulling the flour from the sides and bottom of the dish, incorporating it into the eggs.
When it starts to form a dough, dump it onto a clean surface and knead until a firm dough is formed.
Allow the dough to rest under a damp towel while you prep your pasta maker, for about 20 minutes.
I keep a small bowl of water and a bit of flour nearby.
After resting, cut off a piece of dough, about the size of a golf ball, replacing the damp towel.
Flatten the dough and rough it through the pasta maker at the thickest setting.
Fold the sides in like the photo below and run it through at this setting again. (I do this twice to straighten out the sides.)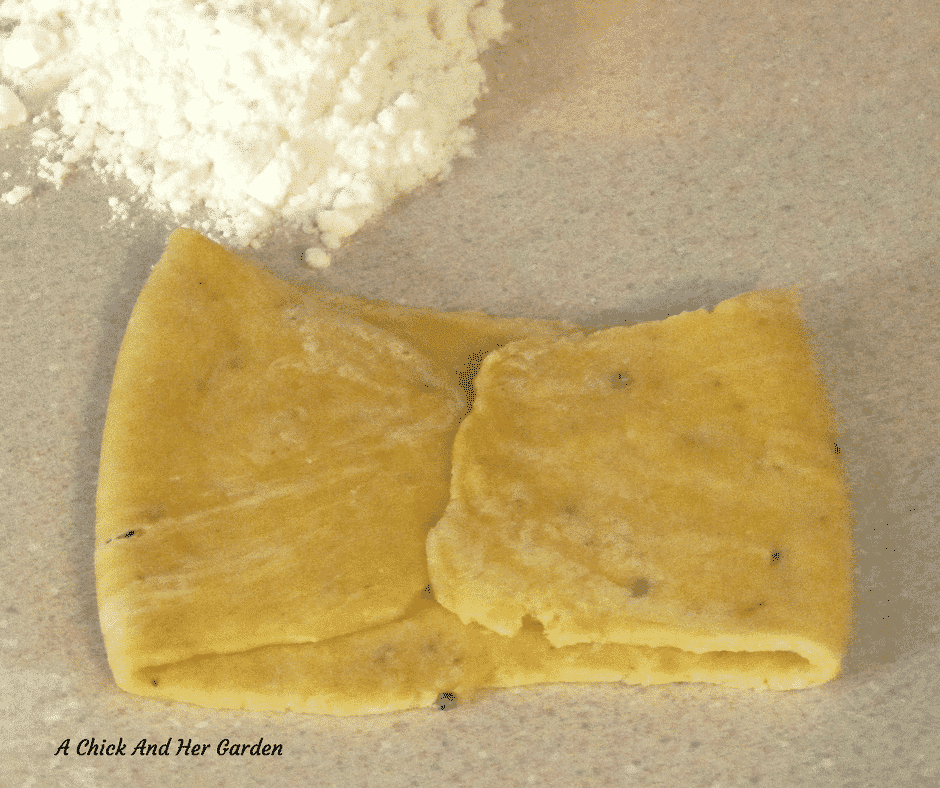 If your dough seems dry you can dip your finger in water and rub it on the top of you dough before you fold it over. If it's too damp add a little flour to the rollers.
Continue rolling the dough through, reducing the thickness each time until you reach the thinnest setting.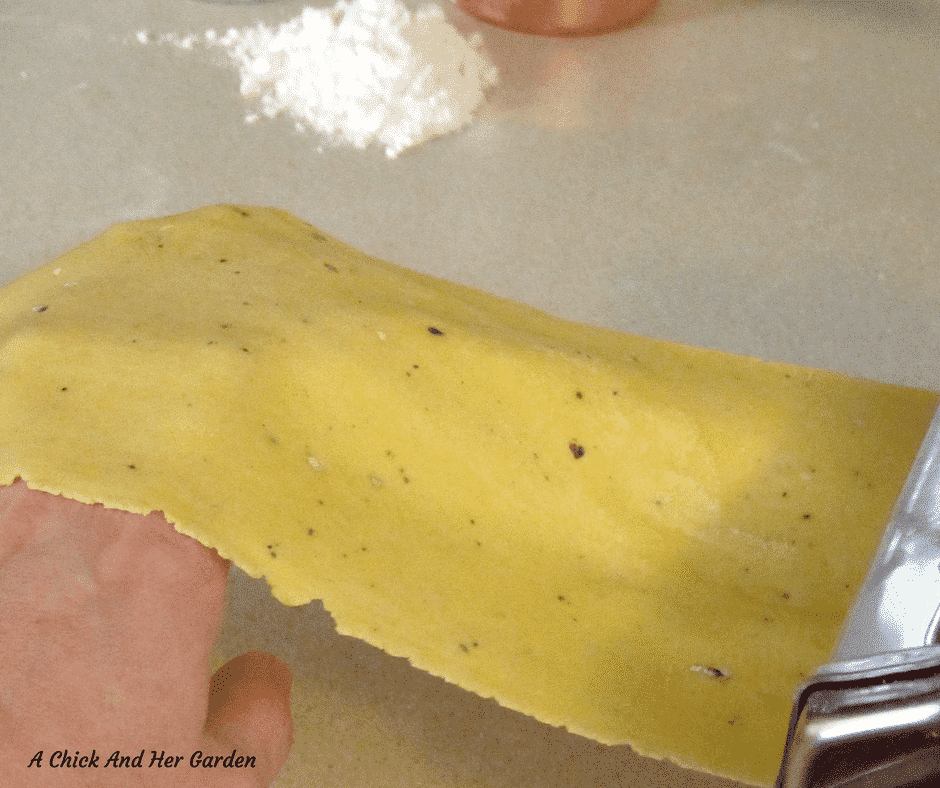 If it gets a little crooked or dry, follow the folding steps above.
Once you've reached the thinnest setting run it through the linguine cutter on the other side of the pasta maker.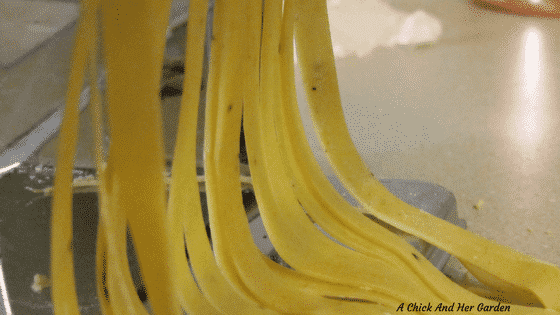 Now you can either cook it fresh or hang it to dry on a pasta drying rack.
To cook bring a pot of water to a boil and cook for 5 minutes.
Rinse and serve with your favorite dish! You might like Chicken Bacon and Artichokes in a White Wine Cream Sauce, Over Linguine!
[mv_create key="4″ type="recipe" title="Homemade Peppered Linguine" thumbnail="https://www.achickandhergarden.com/wp-content/uploads/2018/01/linguine-featured.png"]