Have you ever had fresh, homemade butter? If not, I can tell you that you are missing out! If you have you can understand what I'm talking about when I say that store bought is a joke in comparison!
Homemade butter is so creamy and flavorful that you almost feel guilty eating it! Like that time that you ate half a pack of cookies in one sitting. Oh wait, am I the only one that's done that?
Share the Love! Pin me for others!
Fine, yeah, I'm that girl. I have no self control, especially when it comes to cookies!
But back to butter. When you think of making butter, does your mind instantly flash to that old fashioned churn with the pole sticking out of the top? Back breaking labor just to have something to spread on your English Muffins in the morning? Or maybe on fresh Artisan Sourdough Bread??
Well I've just saved the day because now you don't even need to do anything aside from turn on a switch, and a little bit of stirring at the end.
Seriously, homemade butter… WITHOUT any work! Add to that that all you need are two ingredients and it gives you buttermilk at the end to make Pumpkin Roll Muffins?? I am sold!
Related Posts:
How to Make Artisan Sourdough Bread
How to Make Goat Cheese, Chèvre
Sourdough Starter ~ Failure to Success
How To Make Your Own Raspberry Ginger Ale
Apples and Bananas Fruit Roll Ups
So, what ingredients do you need?
1 pint Heavy Cream
1 teaspoon Salt
What About Equipment??
A stand mixer, like a Kitchen Aid Mixer.
Are you excited about how simple homemade butter is yet?
Okay, I'm probably more excited than you are, but that's easy for me. I can be a little dramatic when it comes to food! We can get started now.
To start, pour your heavy cream into your mixing bowl.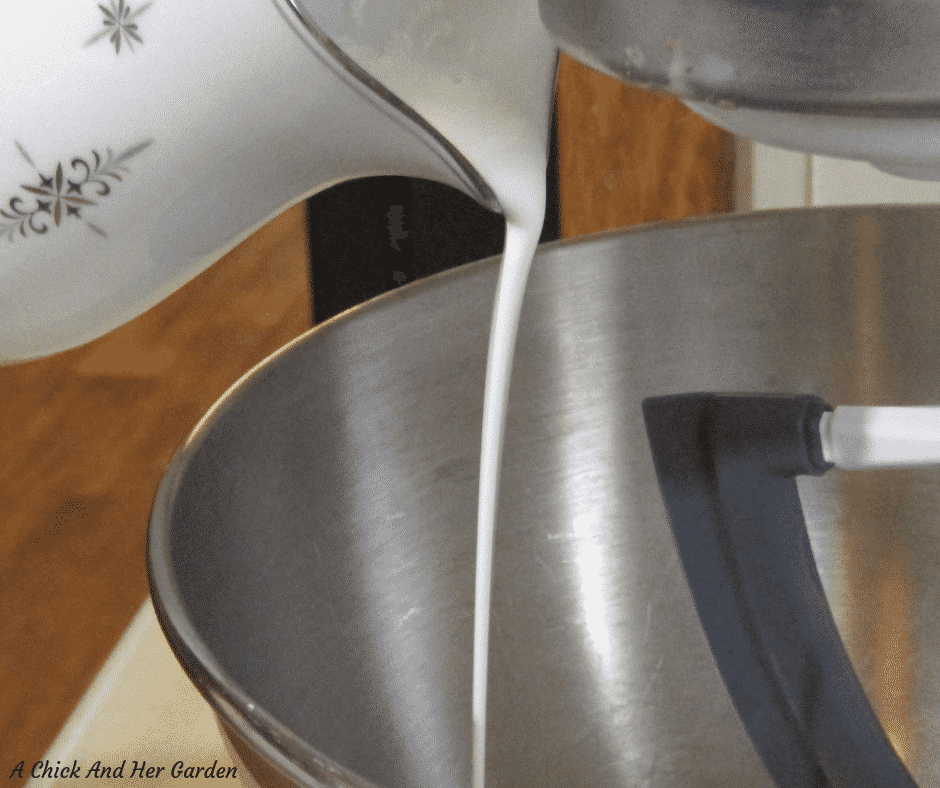 With the standard mixing attachment, turn on your mixer to the lowest setting so it doesn't splash out of the bowl.
If it does splash, you can drape a tea towel over top to contain it.
Now… Walk Away.
For real, leave it alone and get something else done around the house for about 15 minutes.
When you come back to check on it, you should have thick, white cream in your bowl.
At this point you can increase the speed of your mixer up to the next setting.
After a bit, as you can see in the video, your cream will start to separate and look like it's curdling. This is good! It's your butter separating for the buttermilk.
Once it looks like two totally separate ingredients, turn off the mixer.
Drape a tea towel over a bowl and pour the butter and buttermilk onto the tea towel.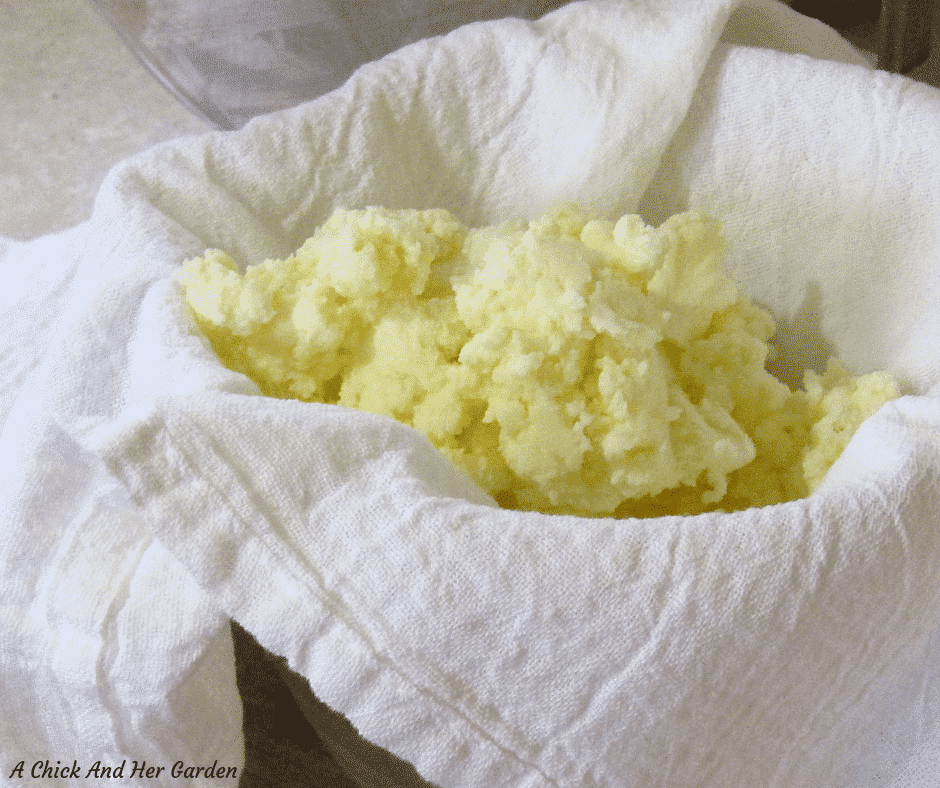 Twist the butter in the towel, like you would a ball of cheese (like goat cheese found here), and strain out any extra buttermilk.
Don't forget to reserve the buttermilk for Pumpkin Roll Muffins!
You now have unsalted butter!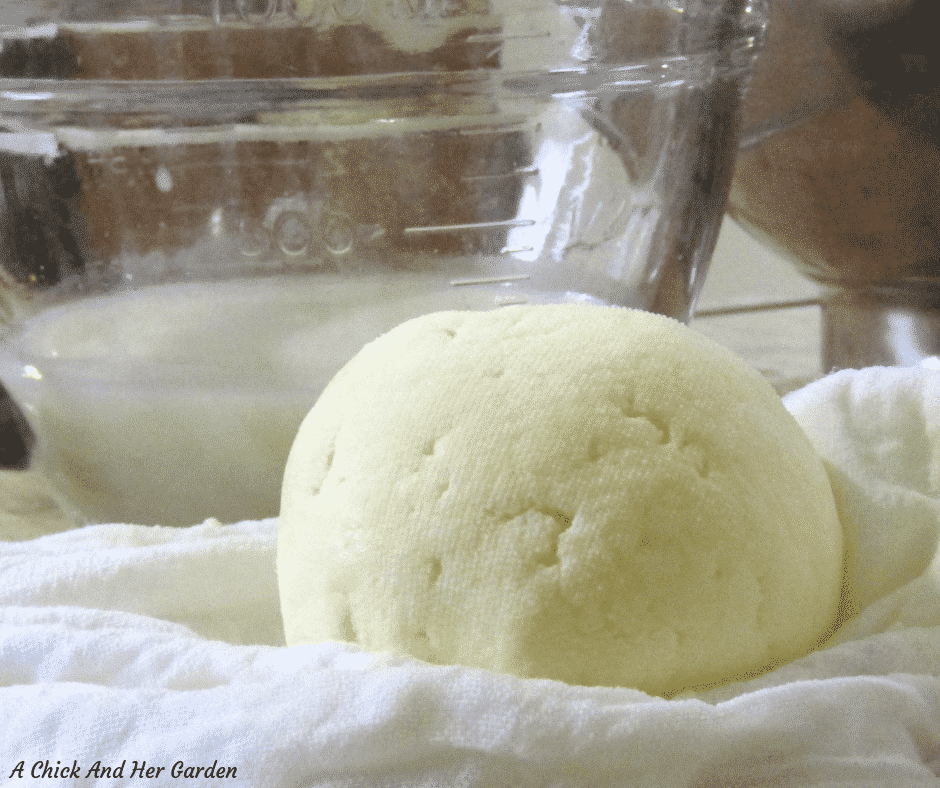 To salt it, put it in another dish and mix in salt to taste, and that's it!
You've just made the creamiest, most delicious butter, all without a butter churn!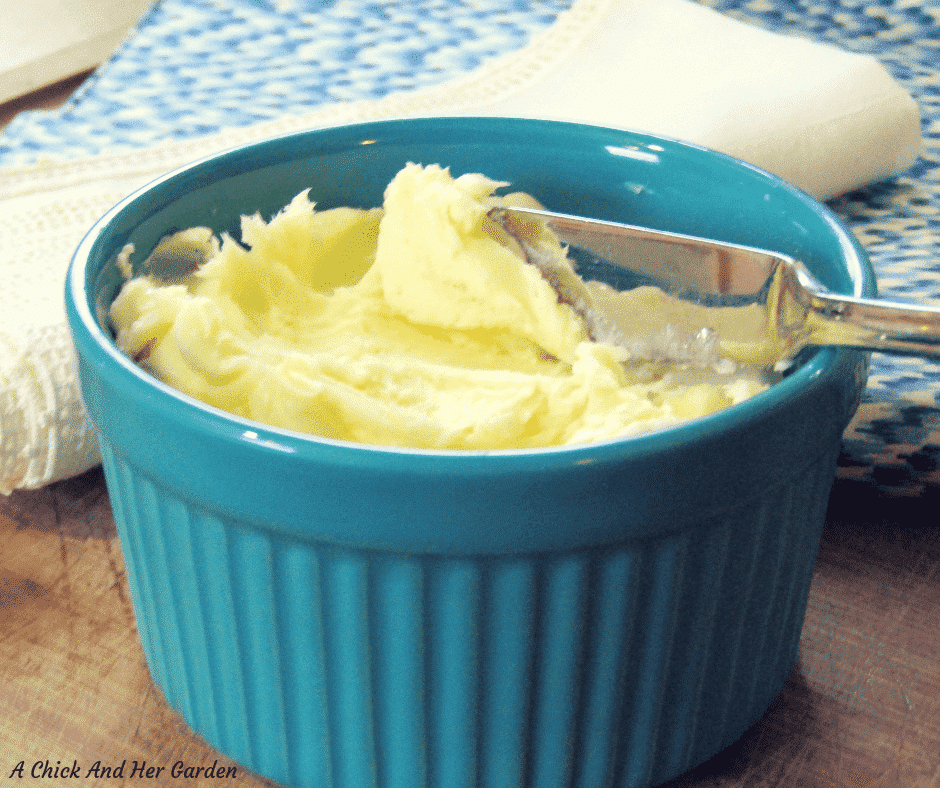 Enjoy! (Maybe with some Melt In Your Mouth Banana Bread!)
[mv_create key="37″ type="recipe" title="Homemade Butter Without a Churn" thumbnail="https://www.achickandhergarden.com/wp-content/uploads/2018/11/butter-Feat.png"]