I have been very impatiently awaiting adding goats to the homestead, and we're getting so close!
We needed a barn, and that was built!
Then we needed a fence. But there was a tree hanging over the property that was about to fall any day, right where the fencing would go in.
Finally the tree was cut down! Now it's just time for the fence… But it's golfing season for hubby so let's see when this happens… (No rush Nick! 😉 )
So, in the meantime I've been studying up on all things goat related!
Learning how to make goat cheese, or Chèvre, has been at the top of my list for using our goat milk, so this week I decided to teach myself how to make it!
Not know how to make goat cheese was not an option! We LOVE it here, so I went in with determination! This is going to work!
Share the love! Pin me for others!
Well, the first try didn't… I made couple of mistakes.
Seriously, silly mistakes that shouldn't have happened, and I'm sure my Chèvre would have turned out perfectly the first time had they not happened.
What were they??
First off, I dropped my digital thermometer into the milk. Yep, that happened… And after that, apparently the air temp in my kitchen was 125°F. Not quite.

The temperature you need to reach, when making goat cheese is 180°F, which is boiling, so I wasn't sure I really needed the thermometer. I figured I could just eyeball it! Eh. Or not.
Related Posts:
How to Make Artisan Sourdough Bread
Goat Cheese and Morel Mushroom Pizza
How To Stock Your Homestead Pantry
Homemade Butter Without a Churn
Sourdough Starter ~ Failure to Success
The second mistake I made was attempting to use cheesecloth bought at the grocery store. Horrible idea!
The holes in that stuff are so huge, it's a wonder that they're even allowed to call it cheesecloth! It should be called a fabric colander!
I tried layering it over and over but the curdles, when you make goat cheese, are so tiny that they pass right through!
That was a fail!
What were the lessons of making Chèvre? Don't drop your thermometer in the goat milk! And, don't use pretend cheesecloth from the grocery store!
How did I correct these problems?
First, I went and bought more goat milk!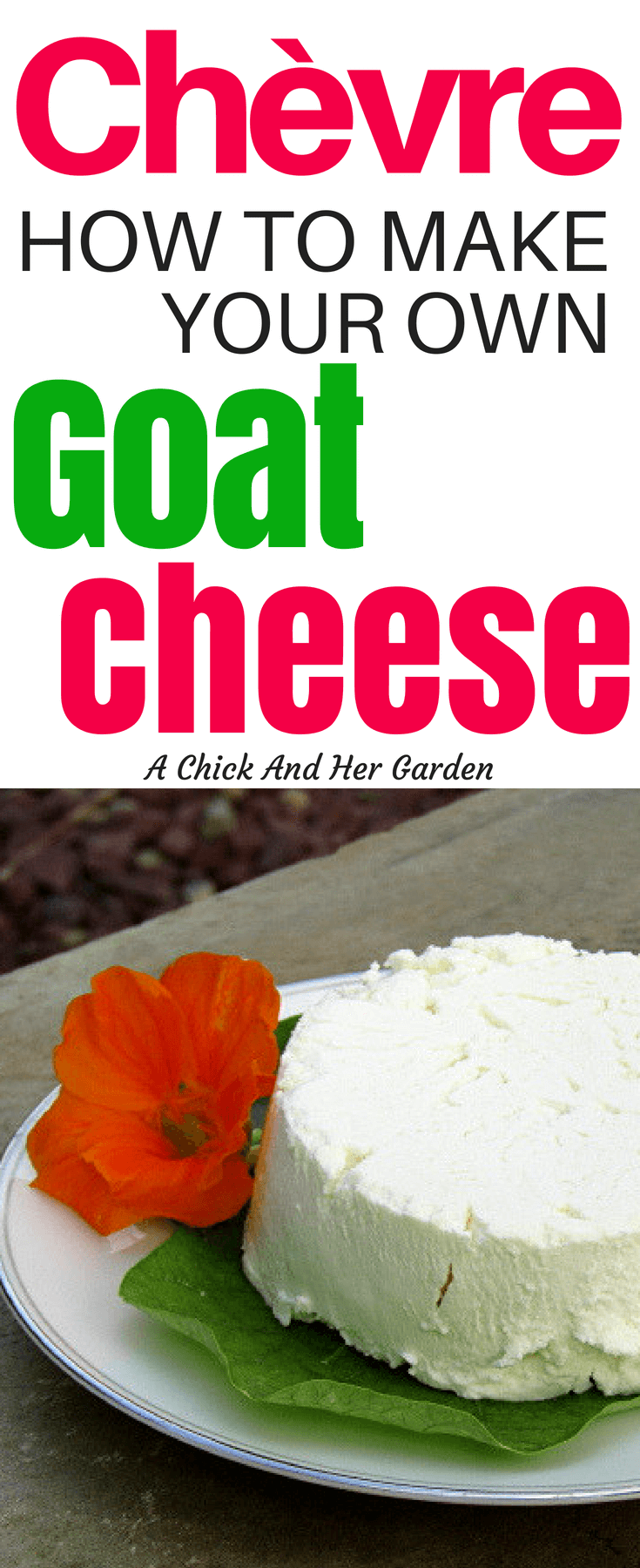 Then, I bought a new thermometer. This one folded so I was able to rest it on the handle of my pot! No dropping it this time!
I also ordered ultra fine cheesecloth on Amazon. I'm sure I've mentioned though that I can be a little impatient… No? Well it's true!
Waiting two to three days for shipping seemed like an eternity! In my need to have goat cheese, I searched the cupboards for an alternative and found old tea towels! Success!
Now that you know what not to do when learning how to make goat cheese, let's get to actually making it!
What do you need to make goat cheese?
1 quart goat milk
1/4 cup lemon juice
3 Tbsp white vinegar
1 tsp salt
herbs, optional
Here's How to Make Goat Cheese
Before you get started, give your quart of goat milk a good shake! You want to get all those bits of milk fat in your cheese!
In a heavy bottom pot, heat your goat milk, over medium heat to 180°F. Do NOT drop your thermometer into the milk! 😉
As soon as the milk reaches 180°F, remove from the heat and add the lemon juice. Gently stir it in.
Add the vinegar and give another little stir.
Allow this mixture to rest for about 30 minutes. I waited a bit longer because it was a pretty hot day and didn't want to risk losing any of those delicious curds!
Right away you can see the milk start to separate!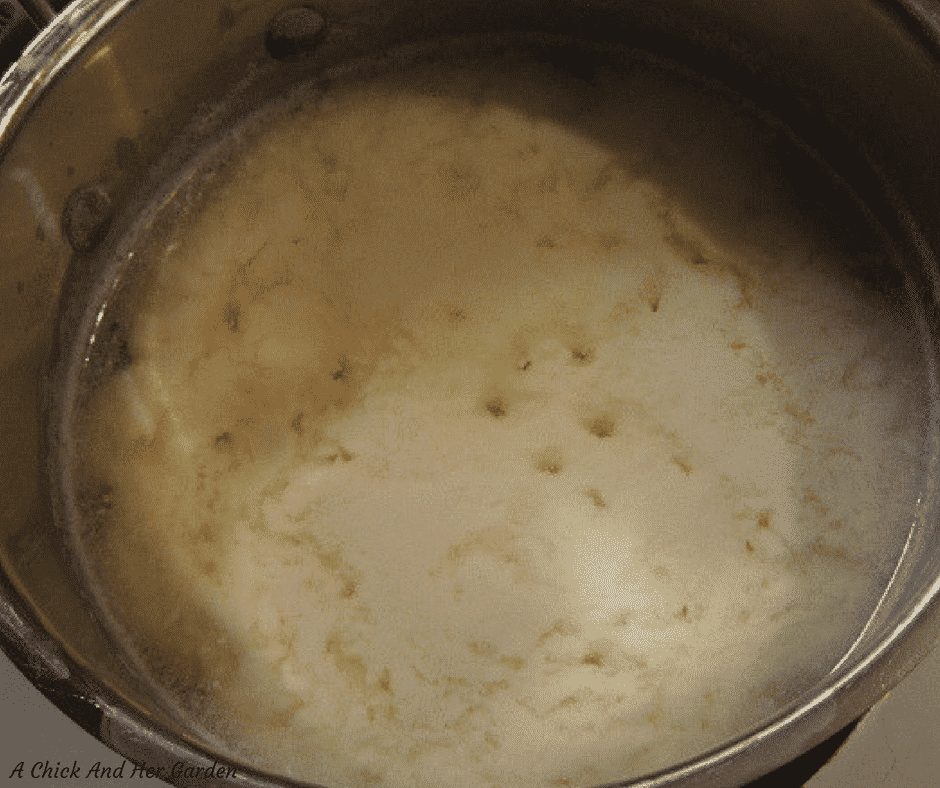 While it's resting, line a colander with your cheesecloth, or tea towel over a bowl. (You'll want to save that whey!)
When it's ready, slowly ladle the mixture into your cheese cloth.
Add the salt and herbs and gently stir in.
Gather the sides of your cheesecloth and tie them together and hang from the faucet over the bowl.
Allow the whey to drain from the curds for about an hour, or until you have the consistency you're looking for. We like it a little bit creamier than what you would buy at the store.
Turn out the cheese and mold it. You could make a log in plastic wrap, or spray a container with oil and form it in there.
Refrigerate and serve your Chèvre when you're ready. (Try to resist the urge to just sit there and eat it with a spoon! LOL)
A favorite recipe of mine is Goat Cheese and Morel Mushroom Pizza!
Tell me you're favorite way to use goat cheese in the comments!
[mv_create key="2″ type="recipe" title="How to Make Goat Cheese, Chèvre" thumbnail="https://www.achickandhergarden.com/wp-content/uploads/2018/07/goat-cheese-feat-1.png"]