It's no secret how obsessed I am with succulents! I can almost feel the hidden eye roll from my husband when I show him another succulent planter that I put together. But, this rustic succulent planter centerpiece was a different story!
Most of the time a new succulent planter means, a new planter to add to the collection falling off the table in our brightest window. At least until I can take them outside when the weather warms up!
Our house is pretty dark, so quite a few succulents will not do well inside, unless they are in that room. But, that's just one more reason to get our remodeling projects done! It's all for the succulents dear! 😉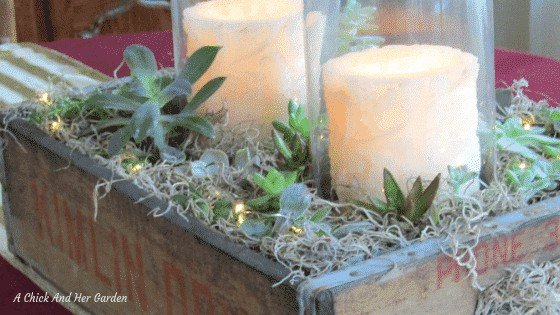 This page may contain affiliate links. I may earn a small commission when you make a purchase, but it does not effect your cost. Thank you so much for your support of A Chick And Her Garden! ~ Staci
Until then, in the winter our dining room is a mini observatory overflowing with these plants that make me so happy.
So. Here are the reasons why this succulent planter was different for Nick.
Share the love! Pin me for others!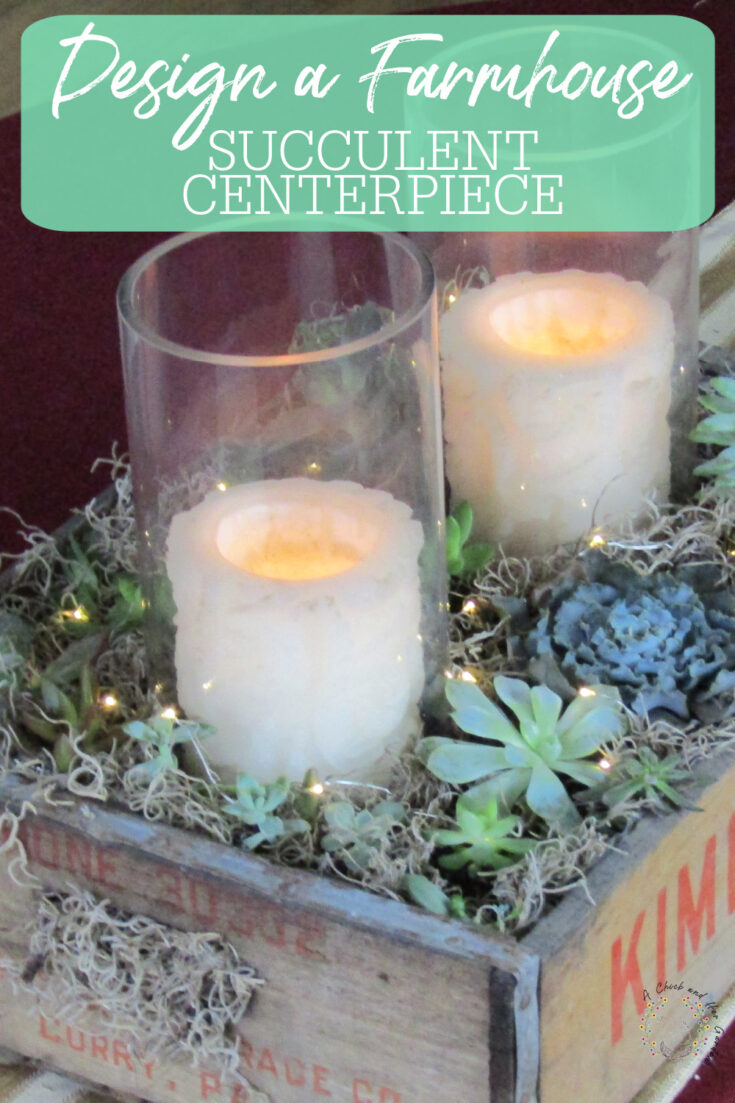 One it's made out of an antique. He's all about vintage items, just like me! And this one was extra special because I found it at my grandma's when my family was getting ready to sell her house.
It is an old soda crate from a store that used to be in the town that I grew up in! It even has the name, address, and five digit phone number painted on the side!
I'm pretty sure the second reason he liked the rustic succulent planter centerpiece so much was because it meant that a few other succulent planters were being subtracted from the masses.
I made my Succulent Pumpkins out of cuttings that I ordered here from Mountain Crest Gardens. As well as a few other fall succulent planters that I had scattered about.
With this succulent planter, I was able to rescue those cuttings and put all of them here, in the rustic succulent planter centerpiece! I say rescue because if it were Nick's job to put away those decorations, they probably would have ended up in the garbage or compost!!!
New to succulents? Here's everything you need to know to get started!
This succulent planter was a lot easier than I expected. My biggest concern about it was how to line the box. I wasn't really worried about damaging the box, because this thing is a beast.
I was more worried about protecting the table. Wood is not leak proof and this box was full of gaps that soil and water could seep through.
After solving that problem this project was a piece of cake!
Related Posts:
How to Make Succulent Pumpkins
What Are Succulents and How Do You Grow Them?
How to Create an Edible Combination Planter
Drying Pine Cones For Natural Crafts
So, are you ready to make your own?
Here's everything you'll need to make this Rustic Succulent Planter Centerpiece yourself:
To get started, you'll start by cutting a piece of drop cloth for your box. Make it bigger than you need and trim it down later.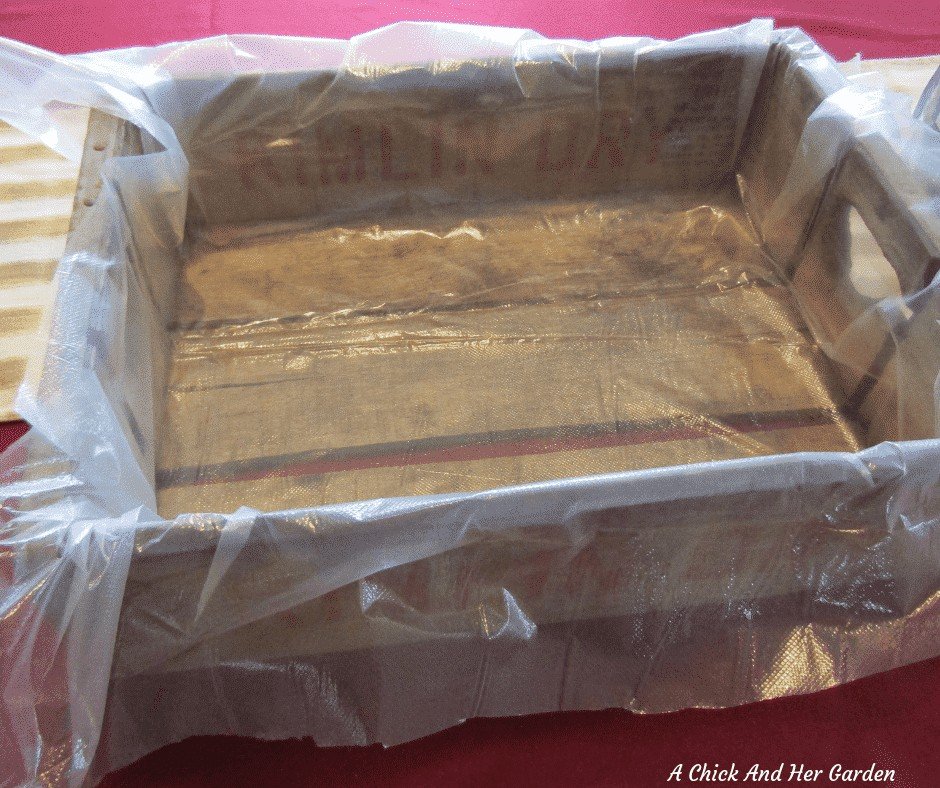 Center your candles and vases in your box, before you add soil.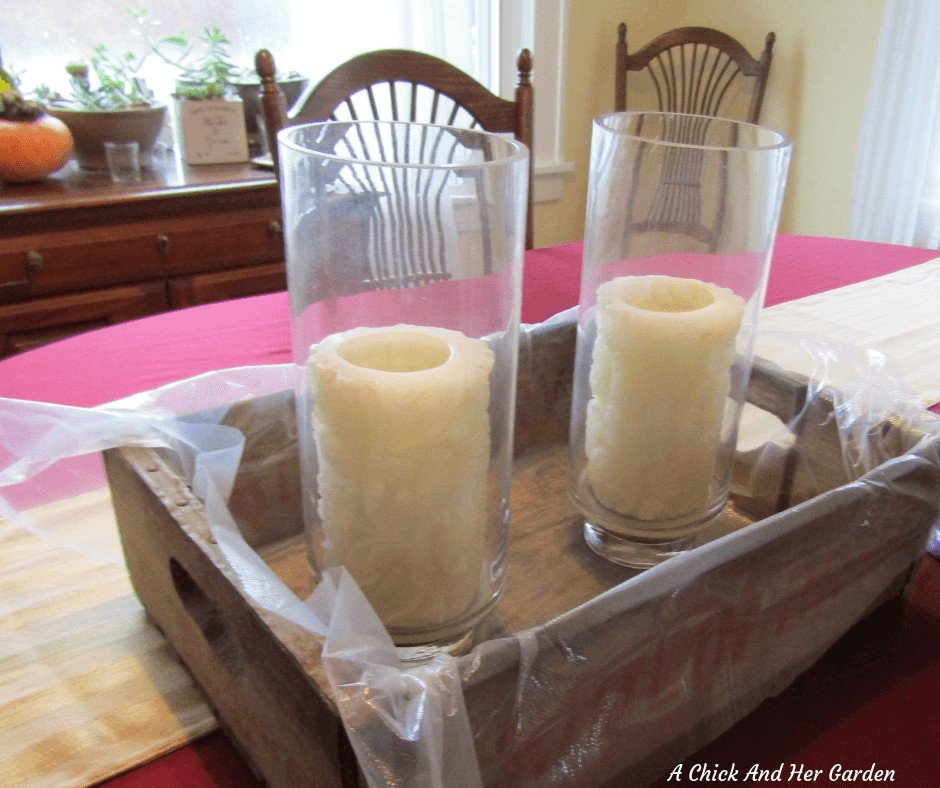 Fill soil in around your candle vases. (And no, my table cloth did not stay that clean throughout. 😉 )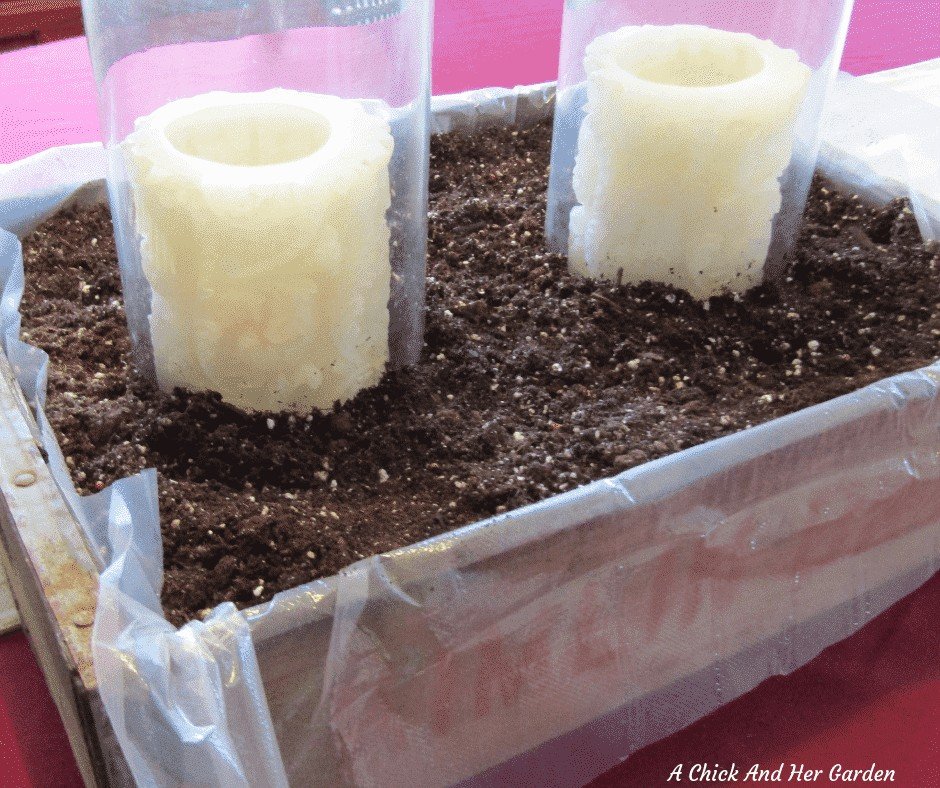 Arrange your succulent cuttings around the box. Use trailing succulents around the edge, taller ones around the candles and center, and place flatter echeveria around throughout the box. You can see in the image below that my cuttings from my fall centerpieces started to root!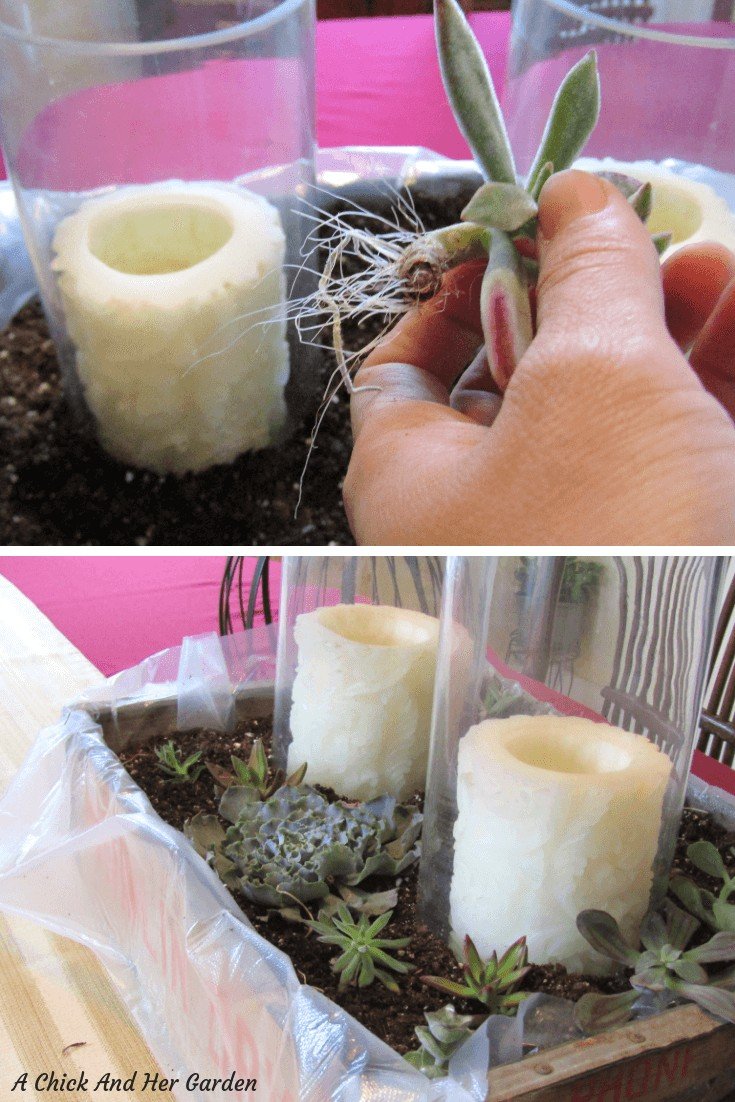 You can leave some of the smaller cuttings out for now if you'd like. They're easier to place after you add your Spanish Moss.
Now, cut your plastic down to the top of the box. Leaving a little distance between the top of the plastic and the top of the soil will keep you from having soil spill.
After you've cut down your plastic, fill in around your succulents with Spanish Moss, hiding any plastic that might be sticking out.
Arrange any extra succulents that you may have left out, or move the ones you might not like.
Feed the string lights through the Spanish Moss and tuck the battery pack between the plastic and box, not in the soil. You can see in the picture below that my box hand carved out handles, so I was able to put it there for easy access to the on/off switch.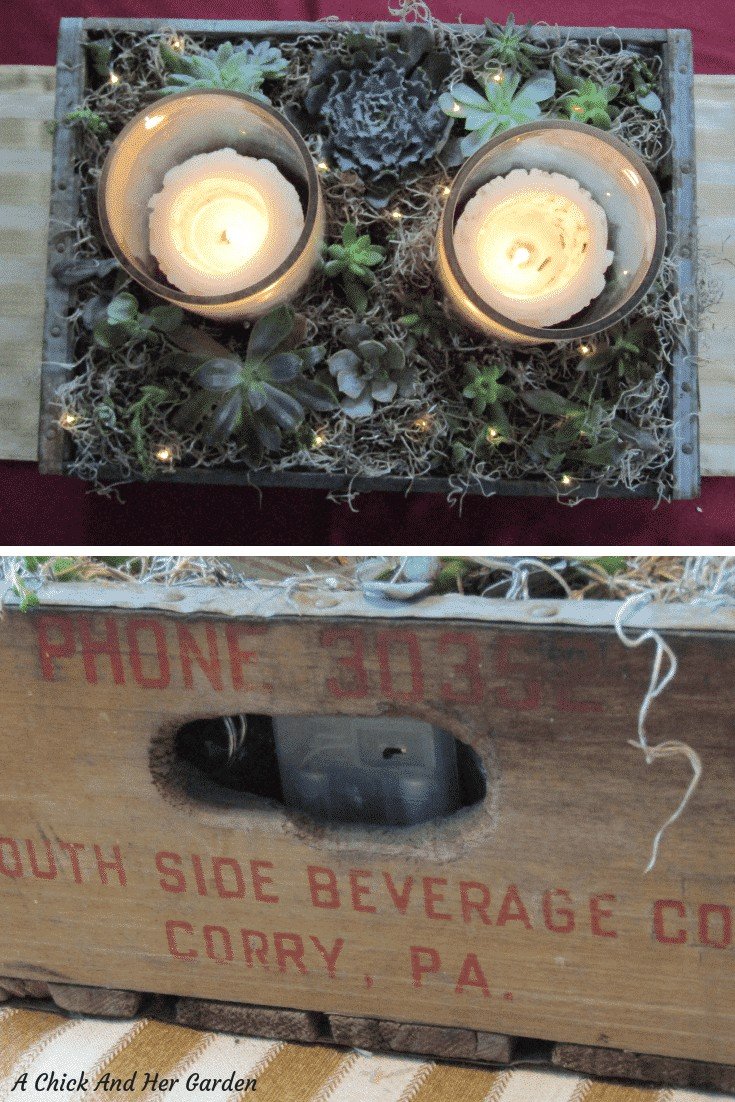 If you have any gaps in your box, you can tuck some more moss into these, but other than that you're all set! Remember that there is no drainage in this succulent planter, so water lightly and enjoy! You will have plenty of compliments on your new Rustic Succulent Planter Centerpiece!
What is your favorite succulent? Share with me in the comments!