Italian Stromboli ~ A Make Ahead Meal
For as long as I've know Nick, I've been searching for a good pizza dough recipe and just haven't found one that I loved. Until now!
Trying recipe after recipe was getting pretty exhausting and I was ready to just give up and (enter gasp here) buy store bought!! Then I found Mama's Best Pizza Dough and I was saved from that shameful idea!
Related Posts:
Goat Cheese and Morel Mushroom Pizza
Artichoke Stuffed Mushroom Caps
Besides being absolutely delicious, it makes a ton! Like four huge pizzas or two hug pizzas and two loaves of bread.
It's also extremely versatile! I could come up with so many different ways to use this dough.
Today I decided was a stromboli kind of day! 16 stromboli's to be exact! Perfect to make ahead for quick meals or lunches.
You can put just about anything in them, but I decided to make them Italian hoagie style!
Pin Me For Later!!
---
Makin' The Dough
I stuck to the original recipe, for the most part. I found that it needed a bit more flour than they called for, but that could just be from humidity.
What do you need?
3 cups warm water
2 Tbsp. yeast
2 Tbsp. sugar
1 tsp salt
6-8 cups flour (This is what I changed. 7 cups wasn't quite enough.)
How we do it!
Add your warm water to a mixing bowl (I used my KitchenAid Mixer).
Add the yeast, stir in and allow to sit for about 5 minutes. There will be bubbles on the surface.
With your whisk attachment (or a whisk!) mix in the sugar, salt and 2-3 cups of flour.
Once it starts to look like a batter, switch to your dough hook, or a wooden spoon, and gradually begin to add the remaining flour.
Knead the dough, adding the flour, until you have a sticky dough, but not sticky enough to stick to your finger. (About 6-7 minutes.)
Remove the dough hook and allow it to rest for ten minutes.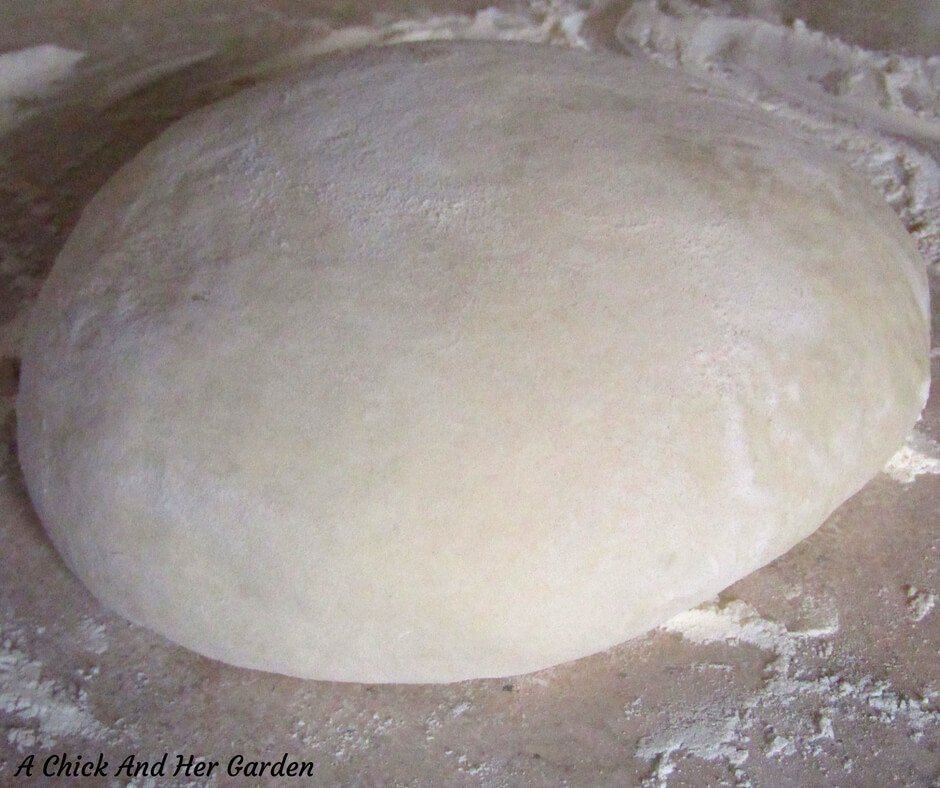 ---
Let's Make Stromboli!
What do you need?
That pretty ball of dough!
deli ham
salami
pepperoni
shredded mozzarella
red onion
banana peppers
oregano
Let's make 'em!
Preheat the oven to 400° F.
Quarter the dough, over and over, until you have 16 pieces. They will be about the size of your fist.
Roll them out thin. About an 8-10 inch long rectangle.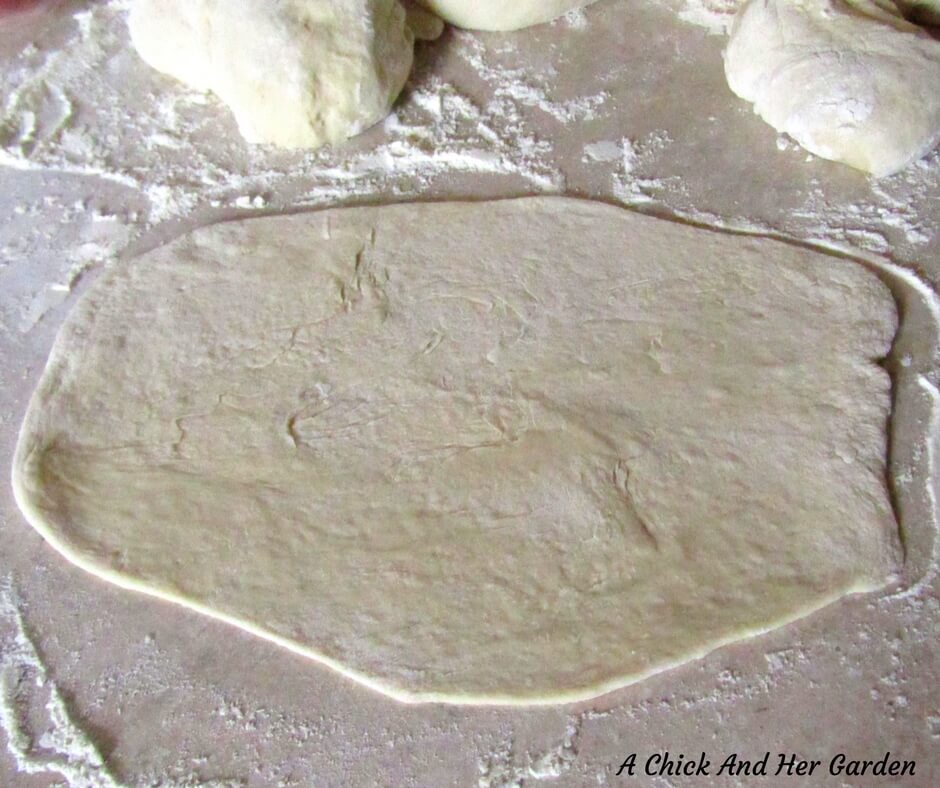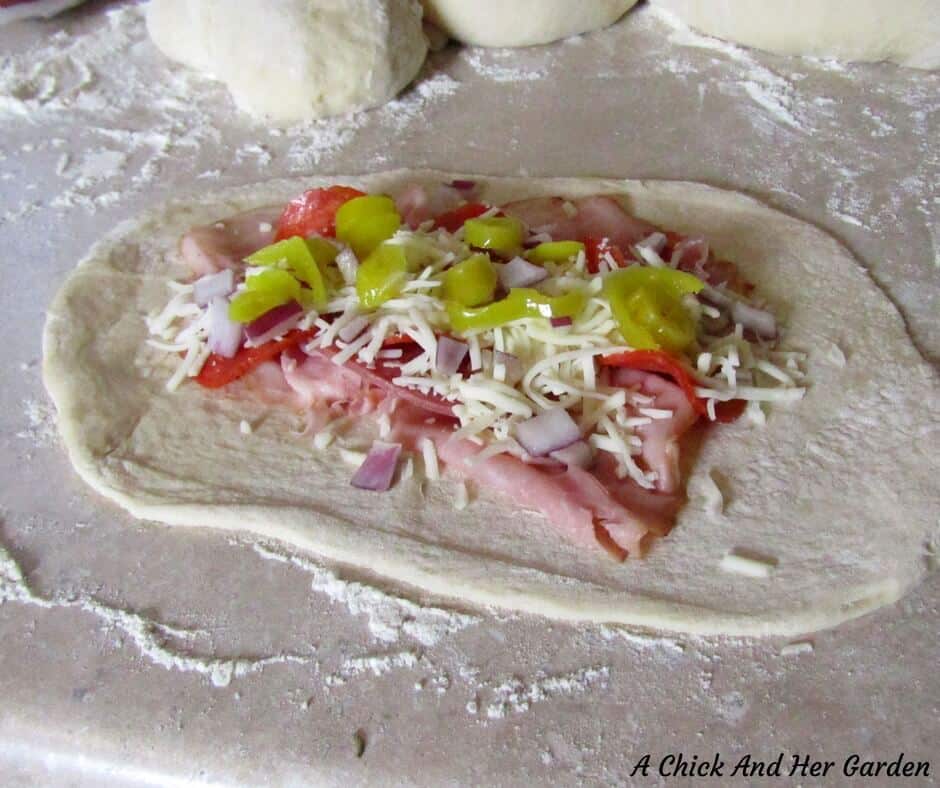 Now you need to wrap it up like a burrito (an Italian burrito, sounds amazing!) and place it on a baking sheet. I like stone, like this.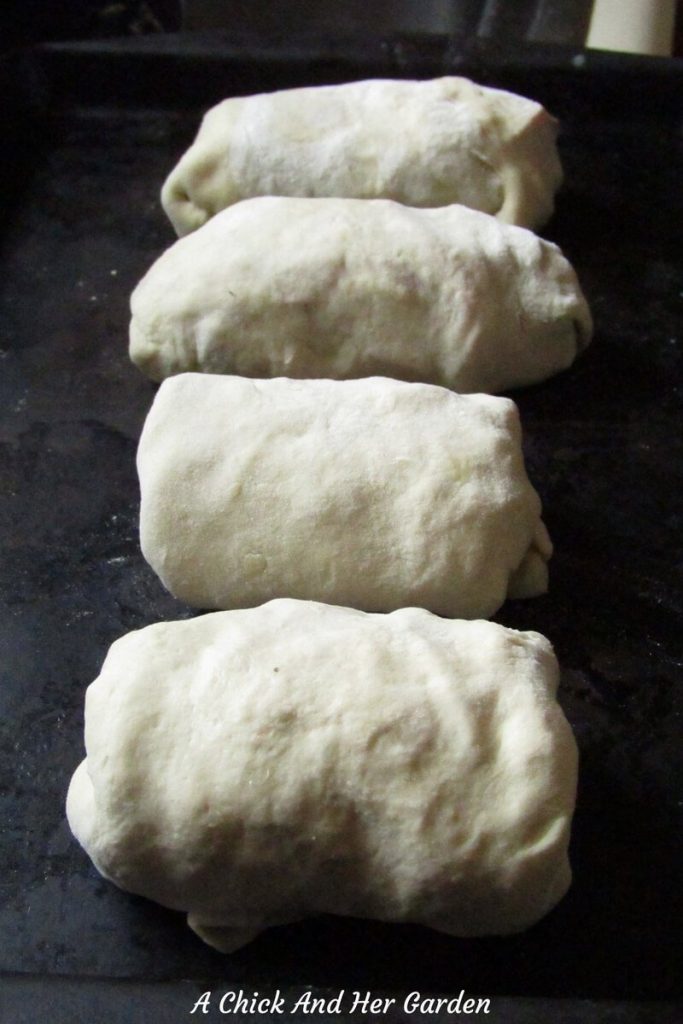 Bake for 20 minutes and enjoy!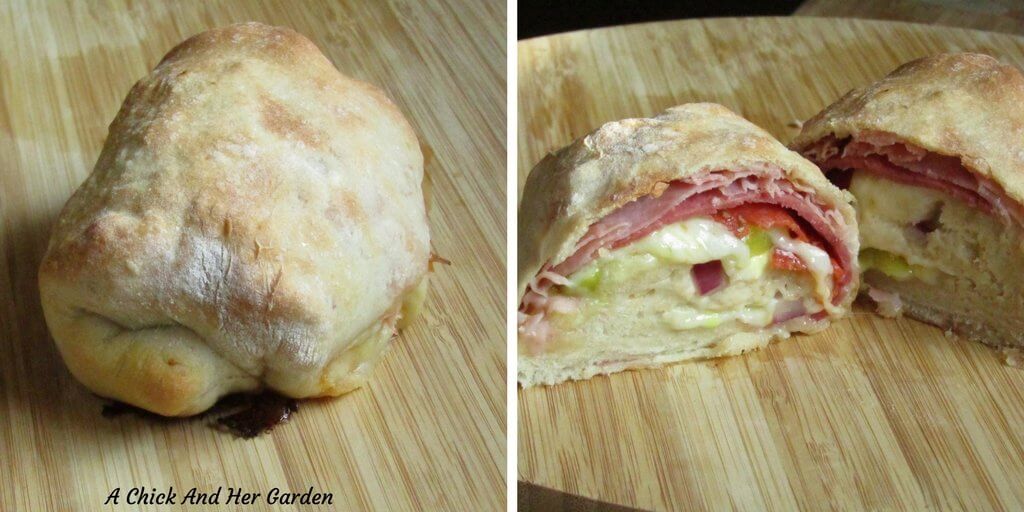 [mv_create key="23″ type="recipe" title="Italian Stromboli ~ From Dough To Dinner" thumbnail="https://www.achickandhergarden.com/wp-content/uploads/2017/01/stromboli-title.jpg"]
We've also done these with pepperoni pizza fillings. What do you like in your stromboli?