Best Ever Chocolate Chip Cookies
If you're looking for a soft and gooey chocolate chip cookie this is the recipe for you! These cookies feel and taste like they are fresh out of the oven, days after you make them!
Everyone needs a great chocolate chip cookie recipe, and these truly are the BEST EVER CHOCOLATE CHIP COOKIES! I have seriously used these as a form of payment for years with my dad! (OK maybe more of a bribe, but they work!)
Share the love! Pin me for others!
His new response when I ask for him to help me with something is that I have a husband now. Apparently that means he has retired. But, if I show up with these, he can't say no!
They are great for lunches, an after school/work snack, or a late night sweets fix!
Related Posts:
Dangerously Addicting Sourdough Cinnamon Rolls
Individual No-Bake Cheesecake Cups
Raspberry Champagne Cream Cake
Homemade Butter Without a Churn
Ingredients
2 1/4 cup all-purpose flour
1 tsp baking soda
1 cup butter, softened (Wanna make homemade?? Here's how!)
1/4 cup sugar
3/4 cup packed light brown sugar
1 tsp double strength vanilla extract
1 3.4 oz pkg French vanilla pudding mix
2 large eggs, preferably from the ladies out back!
1 12 oz pkg semi-sweet chocolate chips
Directions
Preheat the oven to 375˚F
Mix flour with baking soda in a bowl and set aside.
In a large bowl, combine butter, sugars and pudding mix and beat until smooth. Beat in eggs and vanilla and gradually add flour mixture.
Stir in chocolate chips.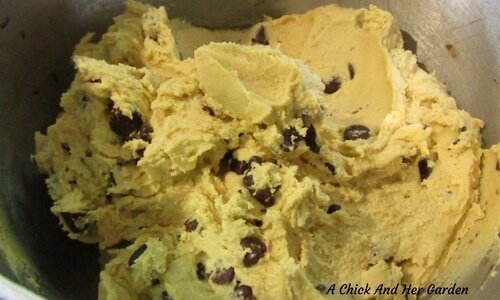 Use a cookie scoop
and drop on a non-greased cookie sheet. I prefer stone
, they just seem to turn out fluffier!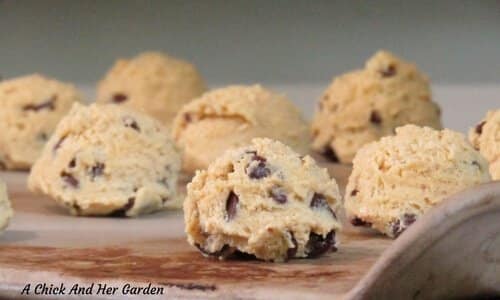 Bake for 8-10 minutes and cool on a wire rack.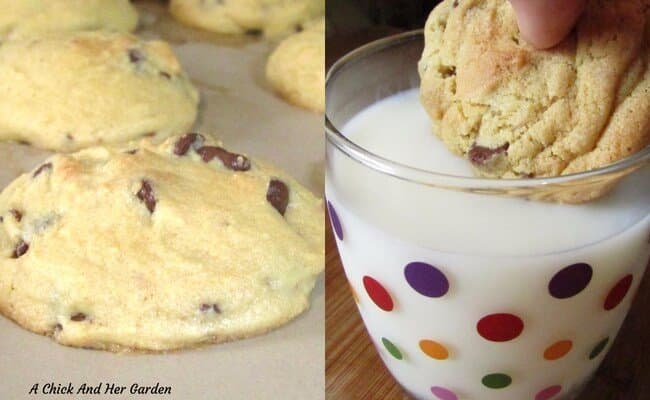 * You could substitute the pudding mix and chips with chocolate fudge pudding and white chocolate chips.
**To make these ahead of time scoop them onto a cookie sheet, flash freeze and then put in a gallon freezer bag and store in the freezer. To bake, pop them on a cookie sheet and bake for the same time as shown above.
[mv_create key="12″ type="recipe" title="Best Ever Chocolate Chip Cookies!" thumbnail="https://www.achickandhergarden.com/wp-content/uploads/2016/08/chocolate-chip-feat.jpg"]
This post is shared on Our Simple Homestead Hop and The Homesteader Hop!
[mv_create key="12″ type="recipe" title="Best Ever Chocolate Chip Cookies!" thumbnail="https://www.achickandhergarden.com/wp-content/uploads/2016/08/chocolate-chip-feat.jpg"]