Sweet Beet Pickled Eggs
---
Fall molting is over and Winter Solstice is past, which means the days are getting longer.  It's coming friends! We'll have Spring soon, I can feel it!
Pin Me For Later!!
Well, so can the ladies in the coop.  Although we're not in full egg production, we're on the right track!  Today I had some extra pullet eggs and decided to make my Sweet Beet Pickled Eggs!
We started making these one Spring, when we had an abundance!  We were fairly new to the area and our farm stand wasn't selling enough eggs and we were swimming in them.  I new my parents really liked pickled eggs and I played around with a few recipes until I came up with this one.
Start by hard boiling your eggs, with the process in Easy Peel Fresh Hard Boiled Eggs.  I always make this with pullet eggs, which are smaller, and boil about 4 dozen.  You can do less, and save the extra brine for later.  Or make a bunch and give them as gifts to friends or family!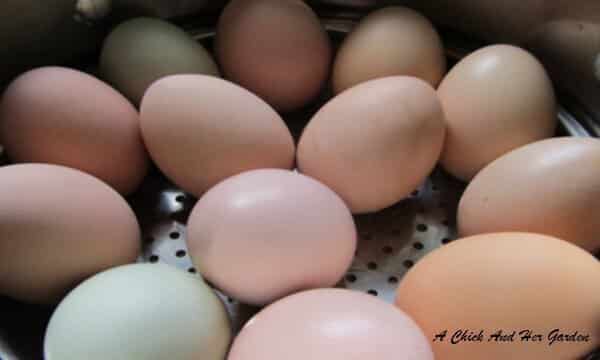 The ingredients you will need are white vinegar, sugar, a large onion chopped, salt, canned sliced beets, and pickling spices.  I have the exact measurements in the printable recipe below.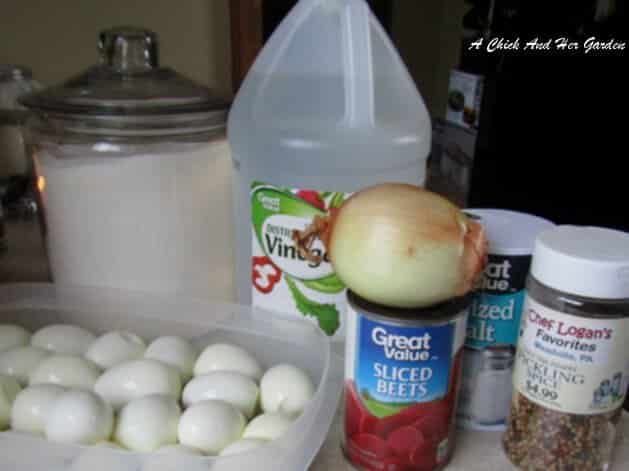 Separate the beets from the juice and reserve the juice.  Divide the eggs and beets among your canning jars.  I usually do 4 quart jars and with pullet eggs, can fit 10-12 eggs per jar.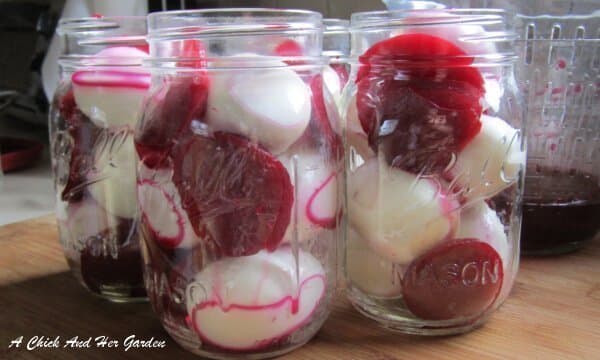 Combine the remaining ingredients and juice from the beets and boil for 5 minutes.  Divide it between the jars and place the canning lids and rings on them.  Leave on the counter overnight to cool and the store in the refrigerator.  The won't last long!
If you like spicy, try our Jalapeno Pickled Eggs!